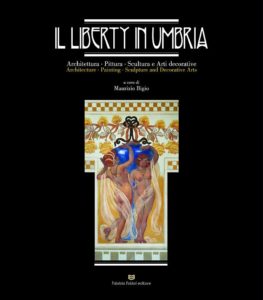 Title: Il Liberty in Umbria.
Architettura – Pittura- Scultura e Arti decorative. Architecture – Painting – Sculpture and Decorative Arts
Scholar: Maurizio Bigio
Publisher: Fabrizio Fabbri
Date of publication: 2016
ISBN: 97888677806886
Features: 231 p., photos 28 x 24.5cm, numerous colour photographs, stapled illustrated paperback.
Price: € 35,00
«This publication has been created from the interest I have always had for the arts in general, in particular for painting, sculpture, architecture and photography. I have always been interested in beautiful things.»
This is how Maurizio Bigio, a graduate in Business and Economics, and a Chartered Accountant for the last 37 years, speaks of his latest enterprise "in the field of the arts". This is not a new departure for him, as he has always been involved in the arts as a musician, having had important achievements in collaborating with major singer-songwriters of the Seventies and issuing the Rock Bigio Blues LP. He recently expanded his artistic horizons devoting himself to photography, collaborating in the creation of the new MUSA (Museum of the Academy of Fine Arts P. Vannucci of Perugia) catalogue edited by Fedora Boco and the book on Ferdinand Cesaroni edited by Luciano Giacchè.
The Author
The subject of Liberty in the Umbrian region previously had only been addressed by Professor Mario Pitzurra, when in 1995 he published Architettura e ornato urbano liberty a Perugia, a text which is now out of print and, according to the author, it was limited to the regional capital city area. It was Pitzurra himself who concluded his work with the hope that «…others will follow my example, possibly extending their study to the rest of Umbria.»
And now, twenty years on, Maurizio Bigio takes up the challenge with purpose of re-awakening interest in this XX century art movement, which has been little studied in the region.
Topic
The foreword to Il Liberty in Umbria, is written by Anton Carlo Ponti with the text edited by Federica Boco, Emanuela Cecconelli, Giuliano Macchia, Maria Luisa Martella, Elena Pottini and Mino Valeri as well as Bigio himself.
The publication is divided into sixteen chapters, encompassing the region from north to south, touching on the city of Città di Castello, Perugia, Marsciano, Deruta, Foligno, Spoleto, Terni, Allerona, Avigliano, Acquasparta and Narni.
The Publication
And the author's interest is not just in architecture, he also focuses on the decorative details in wood, wrought iron, ceramics, glass and, where possible, on the internal painted decoration inside dwellings.
An interesting chapter, edited by Elena Pottini, is devoted to liberty sculptures in the Perugia Cemetery, while Fedora Boco outlines the protagonists of this period with a small biography and related bibliography. The photographs also include Liberty design lost in time such as the Perugina shop and the internal decor of the Bar Milano. This interesting volume also includes a translation of the text in English by Eric Ingaldson.